WooCommerce and BigCommerce are among the top web eCommerce platforms These online storefront builders will make it much easier for you to establish and operate a business selling online. Whether you are starting your first company or an up-to-date business owner, WooCommerce and BigCommerce provide the powerful tools to build and run a fully operational online store— but both platforms do work very differently.
What's right for your business? The answer will depend on your technical skills, your budget, and your eCommerce website goals. Below is an in-depth guide on WooCommerce vs. BigCommerce, then you can make a good decision which one would be the right platform for your eCommerce website.
WooCommerce
WooCommerce is by far the most famous WordPress eCommerce plugin. It lets you easily turn any Website or WordPress into an e-commerce store.
You must purchase and set up your own web hostings, download WordPress, WooCommerce and numerous marketing tools to start a WooCommerce shop. The process may seem very complicated, but it is not as difficult as it sounds.
BigCommerce
BigCommerce come with everything that you need to build an online store, the whole package including hosting, design, content, SEO, payments, and marketing features as well. Set up BigCommerce store is easy and quick because it has their subscription plan already for you to choose, but this platform is lack of customization that mean you will be limited to the tools that available in the BigCommberce platform.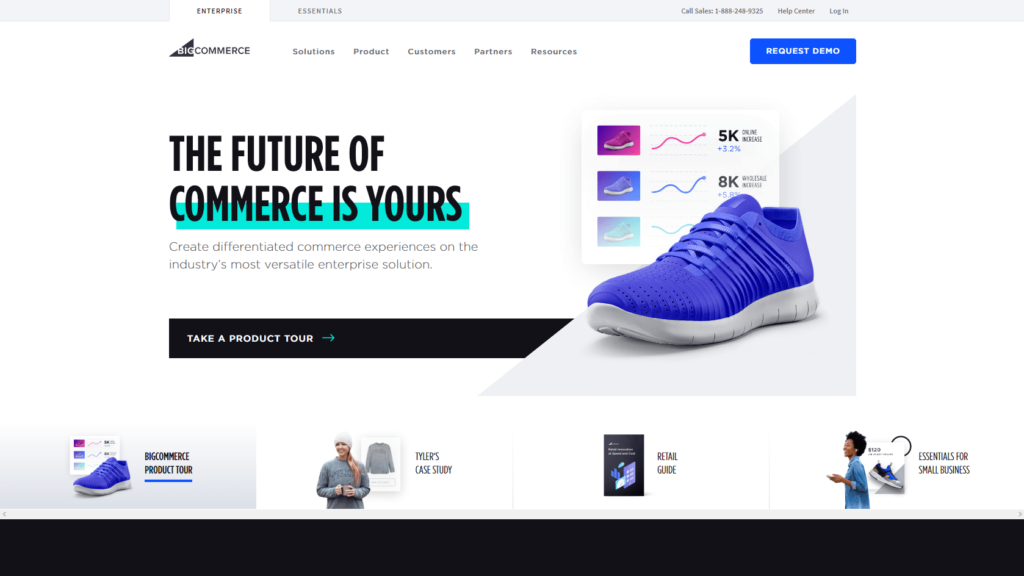 eCommerce
Through selling a physical item, downloadable virtual products, or services, the store needs some essential components. As typical "brick and mortar" companies, you'll need a place to show your items and consumer choice and payment procedures. You must also give the customer a way of contacting your shop. Since your online store represents your business and brand, it needs to always be fully customizable to add new features as your business evolves.
The web's top store builders and web hosting companies tend to include these and related core eCommerce features, with even more options that are available through additional software, themes, and extensions. Within these basics, leading eCommerce platforms vary widely in cost, ease of use, and range. WooCommerce continues to offer flexibility and virtually unlimited choices to configure your marketplace on a WordPress page.
Set Up and Customer Support
Both WooCommerce and BigCommerce enable the development and operation of a new online store in very little time for new users and those with a design and programming background. Since WooCommerce is a WordPress plugin, it is built into your existing website and can be modified from the site's management dashboard, but professional programmers can use their source code directly to make personalized adjustments as well. Users of all levels of experience can mix and match numerous additional WooCommerce plugins and extensions in order to achieve their desired features and functions.
BigCommerce is a hosted service, so its theme and extension choices are proprietary, but shopowner may customize the look and features of individual shop fronts considerably. BigCommerce claims that in just 15 minutes users can set up a basic page. Further customization can be more complicated, but all BigCommerce plans for WordPress hosting include 24/7 customer support and a range of guides, FAQs and videos to help out.
Cost, Plans, and Pricing Plans
It can be difficult to calculate the costs of setting up and running an online store for WooCommerce. The basic price plans set up hosting or buy a domain name will vary a lot and although WooCommerce itself is a free plugin you also might want to purchase a custom theme or install premium extensions to get your favorite features The costs of your website are mostly under your control when those features are in place— and they can be extended to meet the site's growth without additional cost.
Because it is a hosting provider, BigCommerce has more predictable pricing plans, for a basic storefront with packages beginning at about $29 USD a month and varying from custom "enterprise" packs which require a quotation. Yet BigCommerce pricing also depends on the amount of sales your store has — and profit that goes beyond your subscription or package, will push your site into another higher tiered of subscription plan. Since BigCommerce is a host platform, scalability can be a problem as a site starts to increase and demand more from the host capital.
Which is Right for You?
WooCommerce and BigCommerce both provide tools to create stunning online stores that are fully functional. WooCommerce will drive pages ranging from blogs to a complicated business websites with a long and growing list of possibilities for customizing any part of a store. BigCommerce, with features to support a store's growth and expansion. Choose the best eCommerce platform. The choice of the right e-commerce platform depends on your budget, comfort level and future vision.